Setting up Lead Generation and Shopping Cart Campaigns on ReferDigital
It is easy for merchants to set up lead generation campaigns and shopping cart campaigns on ReferDigital. The whole process, including integration of the required tracking pixel on your site, can be carried out in minutes.
This guide covers lead generation campaigns (campaigns that pay out fixed one-time commissions for leads) and shopping cart campaigns (campaigns that pay out one-time commissions based on percentages of a shopping cart value). For subscription campaigns (campaigns that pay out recurring commissions as long as customers have an active subscription to your services), see the separate tutorial here: https://trackingtalk.com/setting-up-a-subscription-campaign-on-referdigital/
The following are the steps involved:
Login to your merchant account on ReferDigital. For help with setting up a merchant account, see here: https://trackingtalk.com/getting-started-as-a-merchant-with-referdigital/
Click the "Post New Campaign" option from the options on the left.
On the next screen choose whether you want to set up a lead generation or a shopping cart campaign from the dropdown.
Follow the instructions on the next screen to set up your campaign.
For a lead generation campaign, you will see a form like the following: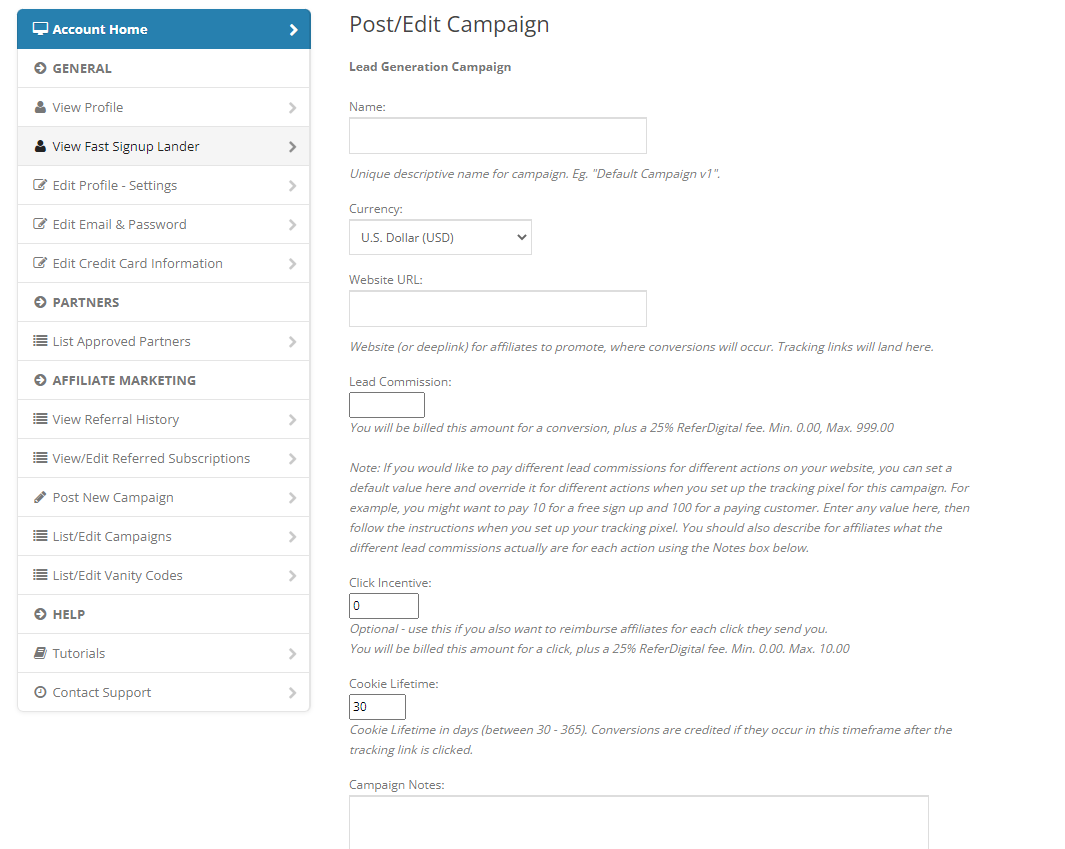 For a shopping cart campaign, you'll see a similar form:
Give your campaign a descriptive name. You and your partners will see this. This cannot be changed later.
Choose your campaign currency. Commissions will be paid in this currency. This cannot be changed later. (Default: US$)
Choose the website URL. Affiliate links for your partners will point here, and your tracking pixel is expected to be installed on a page on this site.
Enter the lead commission you wish to pay in your chosen currency, or the percentage of shopping cart value you wish to pay. (As per the instructions, you will be billed this amount for a successful conversion, plus the 25% ReferDigital fee).
Enter an optional click incentive if you wish (use this if you also want to reimburse affiliates for each click they send you).
Enter the cookie lifetime for your campaign – default is 30 days.
Enter Campaign Notes for your partners to see. For example here you could explain how the campaign works, what commissions will be paid for, and how much they will be.
Once you enter the above information, your campaign will be set up, and you'll be able to retrieve tracking pixels for it, as well as pixel installation instructions. To do so, click the List/Edit Campaigns option on the left of your account and find the campaign you just entered.
For example, in the case of a Shopping Cart campaign: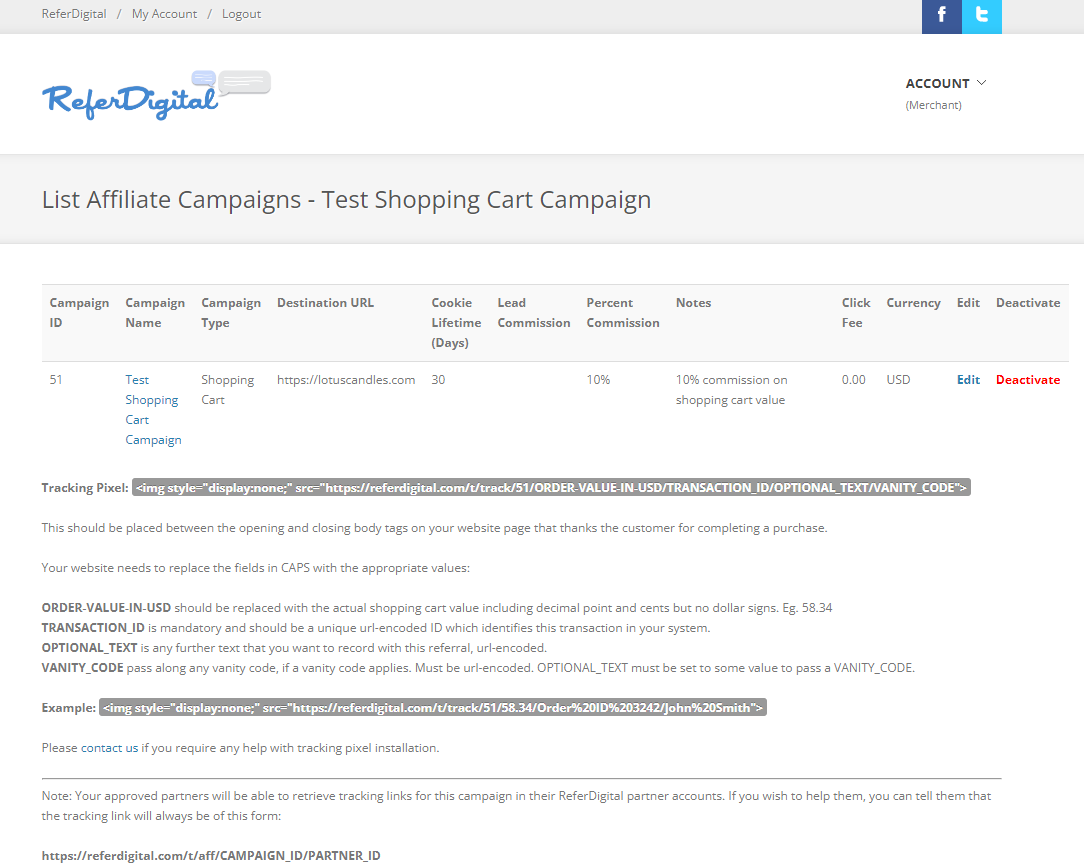 Follow the instructions on that screen to set up your tracking pixel on your site. Doing so just involves inserting the ReferDigital pixel into your conversion page, and replacing the fields in the pixel with your actual values generated by your website. This should be easy for your webmaster or technical team to handle by following the instructions on the screen. As mentioned in those instructions, please also feel free to contact ReferDigital support at the link provided if you need help with tracking pixel installation at any time.
After installing your tracking pixel, we also suggest following up with ReferDigital support to make sure your tracking pixel is functioning correctly and has been properly installed. We will be able to confirm that from our end before you start promoting your campaign to prospective partners, which is always a good idea.
And at this point, you're good to go. You'll have a working campaign and functioning tracking pixel ready, and your partners will be able to start promoting your site using their affiliate links for this campaign, driving more leads and sales to your business!